Learn more about the Canadian
Operation Motorsport Beneficiaries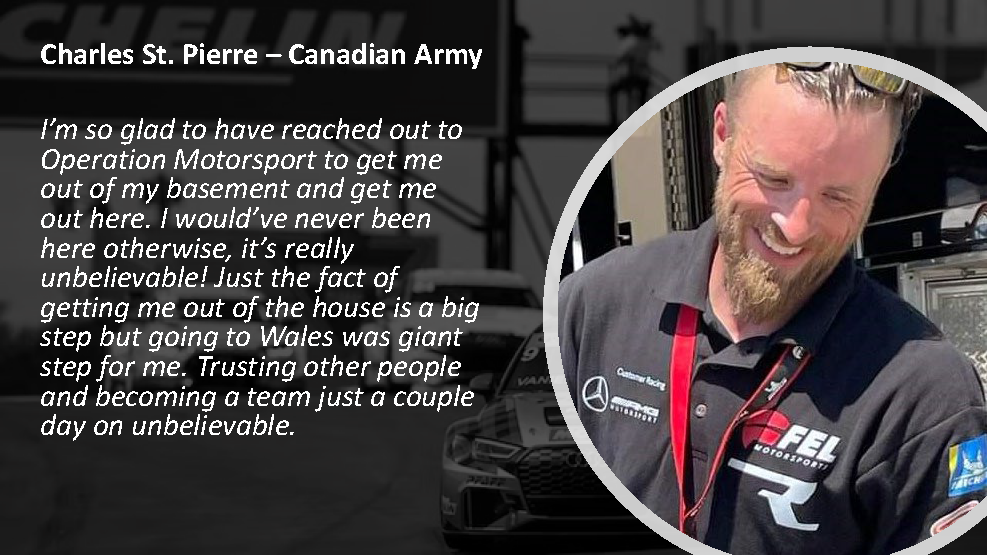 Sergeant Charles St Pierre
Sergeant (ret) Charles St. Pierre joined the Canadian Armed Forces in 2002 as an Artillerymen, completed two tours in Afghanistan 2007 and 2010. He was awarded
the Medal of Military Valour on Sept.18th, 2011 for his courage and composure on tour in 2010. Released from the army as a Sergeant in 2021 after 19 years for medical
reasons.
In 2011 my wife and I blessed with our first baby my son Jaxson, and in 2014 my daughter Danika arrived. We currently live together in Petawawa, Ontario.
"After getting out of the army I was lost, missing being part of a team and left with my darkness, and now I can see a little bit of light at the and of the tunnel."
"I'm looking forward to doing something bigger them myself and helping me conquer my fear of getting out of the house and facing the world. I hope that going will
help me take charge of my life and do something bigger."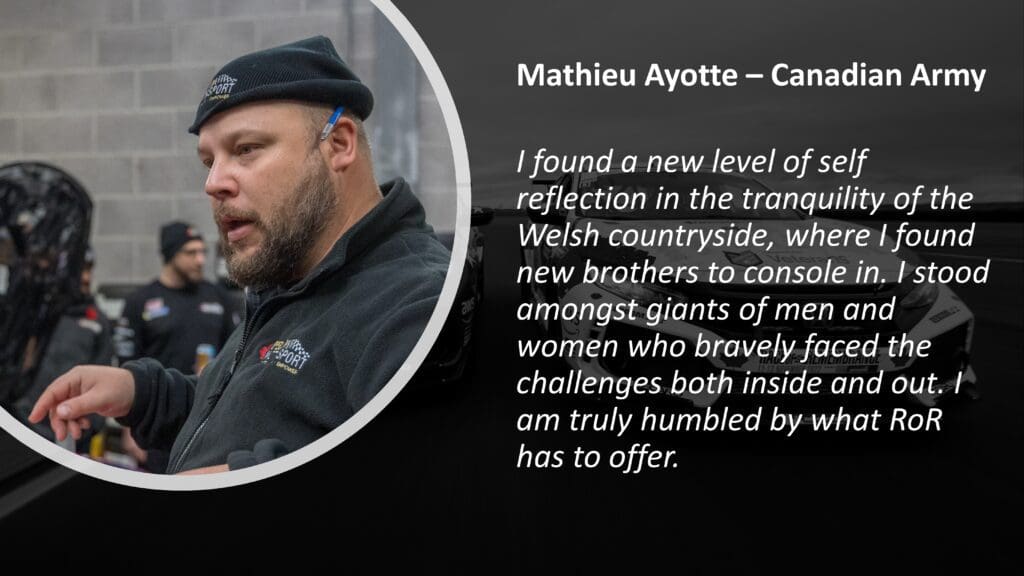 Sgt. (Ret) Mathieu "Matt" Ayotte, CD retired from the Canadian Military Engineers on 31 March 2018 after 17 years of loyal and dedicated service in Canada and Afghanistan. Matt enlisted with the Canadian Armed Forces in 2001 with 3 Field Engineer Squadron (now 33 CER). In 2004 he went to 2CER in Petawawa for workup training for JTF Afghanistan and deployed to Afghanistan with 2CER, Task Force Kabul. After returning from Afghanistan, he was awarded the GCS-SWA. He was promoted to Sergeant in 2013.
During his time in the CAF Matt drove a large assortment of vehicles in all different types of environments. With a vast array of driving experience ranging from Big off-road trucks, armoured vehicles, light weight cars, and trained in tactical driving, as well as instructing techniques. These experiences fostered his interest in motorsports
In 2016 Matt began racing with the aim of training and developing. Aiming for our development year He strived to test the car. Mathieu entered 2 events in the OPRC and competed in Autocross events. He also ran test days at Calabogie Motorsports Park. In 2017 Matt pushed for more Rally events and aiming for podium spots. He placed 2nd in two-wheel drive open class at Lanark Highlands Forest Rally and a 3rd at the Rally of the Voyageurs.
Matt has found a strong support group within Operation Motorsports.
Cpl Josh Snider, currently serving as an infantryman with PPCLI in CFB Edmonton, AB. Deployed domestically and overseas throughout my time at 3 PPCLI. Awaiting
Medical release at the Transition Centre focusing on education and rehabilitation. Currently living with my wife Bobbie, two dogs Atlas and Ares and 13-year-old
nephew Cashton in Edmonton, AB.
"The ability to experience such a powerful event alongside fellow brothers and sisters in arms reinvigorates that team, and identity and gives us all a purpose we all feel we lack since leaving the forces."
"I'm looking forward to being able to capture the true, raw emotions of fellow beneficiaries through photography and video during RoR and spending time
with the amazing family that is Operation
Motorsport. I hope to gain stronger bonds with likeminded people looking to reignite that fire within."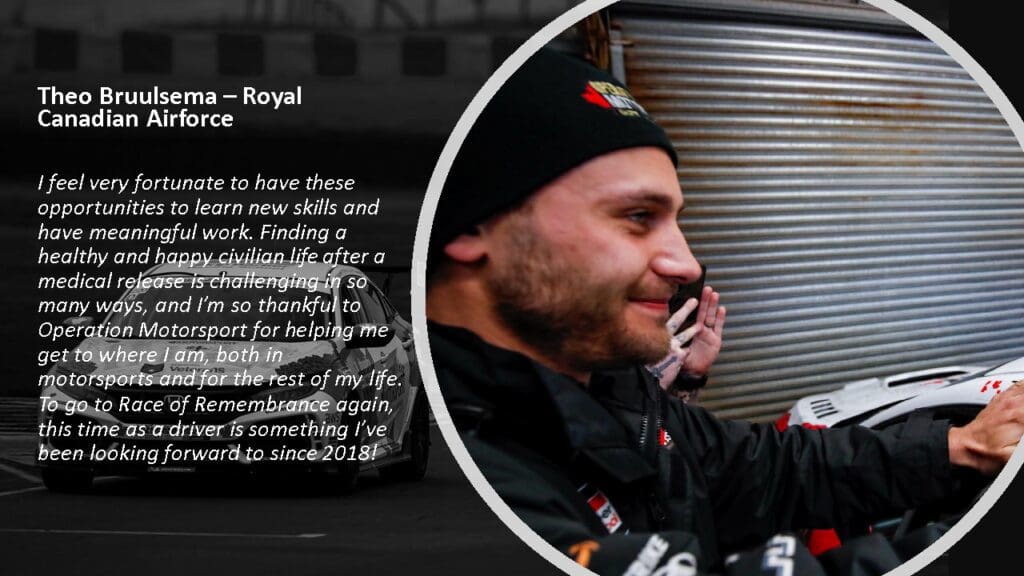 Theo served in the Royal Canadian Air Force for 7 years, completing a university degree in Aerospace Engineering and trained to be an Aerospace Control Officer before being medically retired. He joined Operation Motorsport in 2018, gaining experience with fuel and tires for a variety of teams, while using the OpMo iRacing leagues and karting to hone his driving skills. After a few seasons
as a 2nd tech for the Alegra Motorsports GT3 program and support engineer for the TWOth Autosport TCR program, Theo completed a season of miata racing in
Calabogie and successfully completed the Skip Barber Racing School.
"I feel very fortunate to have these opportunities to learn new skills and have meaningful work. Finding a healthy and happy civilian life after a medical release is
challenging in so many ways, and I'm so thankful to Operation Motorsport for helping me get to where I am, both in motorsports and for the rest of my life. To go to Race of Remembrance again, this time as a driver is something I've been looking forward to since 2018!"
Warrant Officer Darren Scott
A retired Warrant Officer (WO) of the Canadian Army who started his career with the Royal Canadian Horse Artillery (RCHA) and finished as an Ammunition Technician. He has been blessed to be married to his best friend Diana for the past 33 years. They are the proudest parents of 3 grown children and 6 amazing grandchildren. 
As a veteran Remembrance Day means so much more than just another ordinary day. The opportunity to stand and compete with other members of the military family from around the world is nothing short of humbling. As well it is an honour to be selected to represent Canada under the Operation Motorsport flag in Anglesey, Wales.