Learn more about our
Operation Motorsport Beneficiaries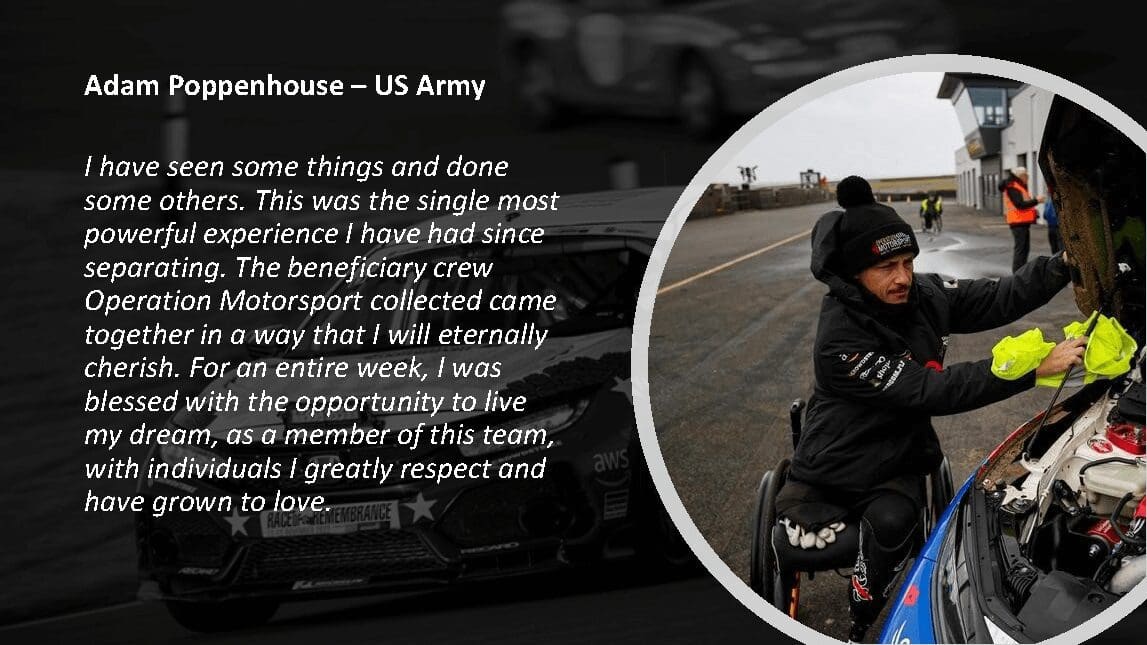 Sergeant Adam Poppenhouse
Attended tank school at the "School of Hard Knox" Ft. Knox, KY. after joining the REAL Army in 2004.
Deployed with the 3rd Stryker Brigade to Iraq in 2006. Receiving the Purple Heart for injuries that resulted in the amputations of both legs. During the subsequent 3 year hospital stay-cation I found a love for wrenches and racing. Interning at a dyno tuning facility, and then competing in local NASA and TimeAttack events before attending The Mid-Ohio School and eventually working for the Richard Petty Driving Experience after settling in Las Vegas. Most recently having the honor of navigating in "The Mint 400" for the second time. Enjoys throttle therapy of all sorts. Husband to his smokin' hot, yoga teaching, wife, Megan and proud father of two boys Adam Jr. (A.J.), 6 and Senna, 3. Spent 2021, traveling the country in a motorhome, as a family, seeing both oceans and the faces on the mountain.
" Becoming involved with Resilience Racing and Operation Motorsports has truly helped to reshape my post separation life in a positive and exciting way. Being a part of this RRe team, smoking tire, burning fuel, the real stuff and the virtual, that's my happy place."
Recently, Adam received a set of full hand-controls for use in sim racing from Sim-Ability, through Resilience Racing. In the Operation Motorsport eMotorsports Season 5 Opener, Adam used them to take pole position in the beneficiary class at Road America! Though that's not to say he wasn't fast before! Adam is a great symbol of perseverance and adaptability!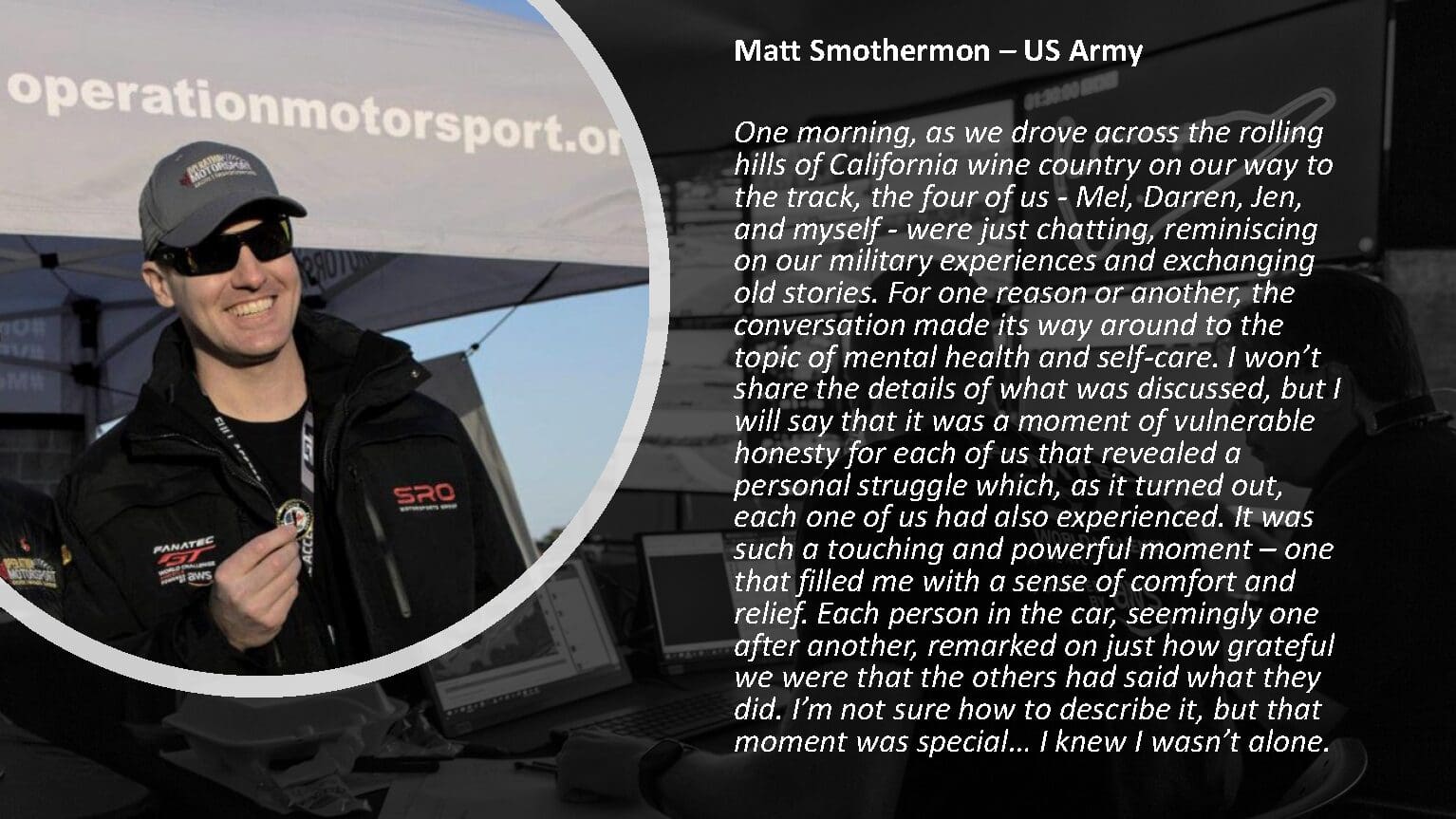 Can you give us some background into your military service?
I originally enlisted in April 2005 and attended Basic Training and AIT at Fort Benning, GA. After spending two years as an infantryman in the Oklahoma Army National Guard, I attended Officer Candidate School and received my commission as an engineer officer. In 2011, I deployed to Afghanistan as a Route Clearance platoon leader. While leading combat patrols, my vehicle was struck by IEDs on three separate occasions. My subsequent injuries ultimately took me off of combat patrols, but I remained deployed with my unit and later received the Purple Heart and Bronze Star. After returning from Afghanistan, I went on to serve as a company commander and staff officer in various roles including current and future operational planning, engineer operations, and safety officer. My combat injuries eventually caught up with me, and I medically retired as a Major in April 2021 after 16 years of service.
What are you most proud of from your time in the military?
I'm probably most proud of my time leading troops as a platoon leader in Afghanistan and subsequently as a company commander when we returned home. Being able to serve alongside such honorable people while doing something that was both meaningful and directly impactful in the role of a servant leader was immeasurably fulfilling and the experience of a lifetime. That and I was a combat engineer, so I got to blow things up, which never gets old.
Why are you interested in motorsports?
I have always been a fan of cars and motorsports. Whether it's the competitive element, the advanced technology involved, or the pure art of racing, I have found myself drawn to every aspect of motorsports for about as long as I can remember. I'm an avid fan of Formula 1, IndyCar, MotoGP (yes, even the two wheeled kind), and just about all forms of road racing from IMSA to SRO and DTM. I have also enjoyed it on a personal level in karting, track days, and racing video games over the years such as Gran Turismo and Forza Motorsport; since diving into proper simulators like iRacing, my appreciation for the craft has grown even deeper.
What transferrable skills do you think you have that would be a good fit for motorsports?
First and foremost, I am adaptable and can develop new skills very quickly. Second, I excel in a goal-oriented team environment both as a leader and as a team member. In terms of education, I have a B.S. in Mechanical Engineering as well as a Juris Doctor; I'll admit the latter doesn't help much with racing, but the former provides a solid foundation of knowledge from which I can navigate and understand the more technical side of motorsports. I communicate well and I have a good mind for detail, and in motorsports the details matter. I would love to say that I have turned wrenches all my life, worked in and around motorsports, or worked as a mechanic, but I have done none of those things. What I can say is that I understand and love motorsports, and I possess the soft skills and technical foundation upon which more directly-applicable skills can be developed.
How did you learn about Operation Motorsport?
I have spent the past two years diving deeper and deeper into the world of sim racing, using iRacing as the primary means of competition and development. A year or so ago, I joined an active racing league in iRacing and learned indirectly of Operation Motorsport through some of the veteran members there. Some time last year, I saw a headline announcing a formal partnership between Operation Motorsport and iRacing and began looking into what the organization was all about. I was taken aback by the parallels I noticed between OpMo and my own personal journey as a medically retired veteran who had been using iRacing and motorsports as a sort of therapeutic outlet as well as an avenue for self-development. With such closely aligned goals, values, and experiences, I was compelled to reach out to establish a connection.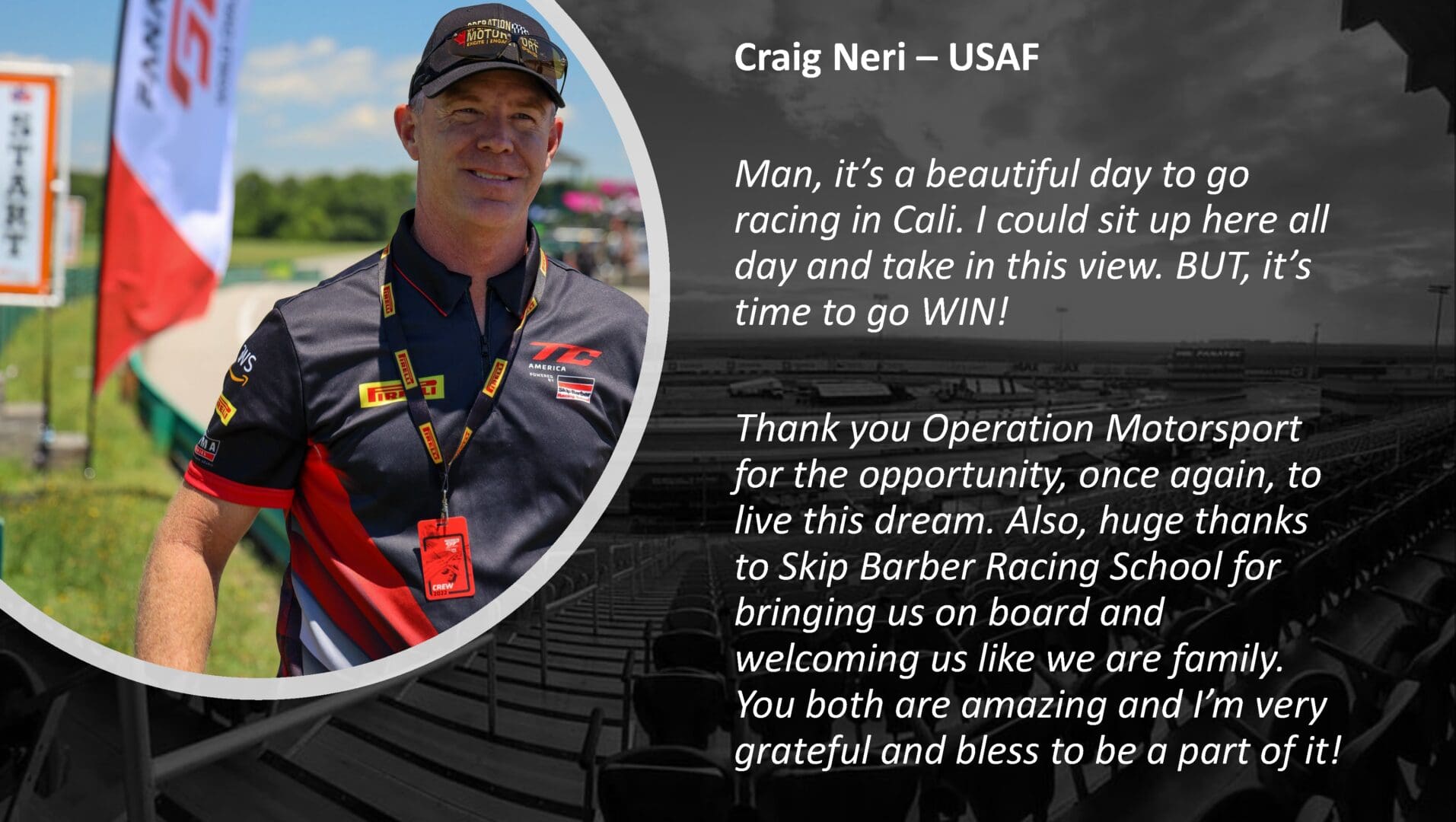 Chief Master Sergeant (retired) Craig Neri entered the United States Air Force in March 1991 as an electronic computer and cryptographic systems journeyman. After more than 29 years, he culminated his career in 2020 as the Air Force's first Senior Enlisted Leader for the Deputy Chief of Staff for Manpower, Personnel and Services, Headquarters U.S. Air Force, the Pentagon. He spent the last five years of his career creating the policy and operational standards that would be the foundation of the sixth branch of the armed forces – The United States Space Force. Chief Neri served on multiple deployments in support of Operations SOUTHERN WATCH and ENDURING FREEDOM. He is married to his high school sweetheart and they have two children and five grandchildren.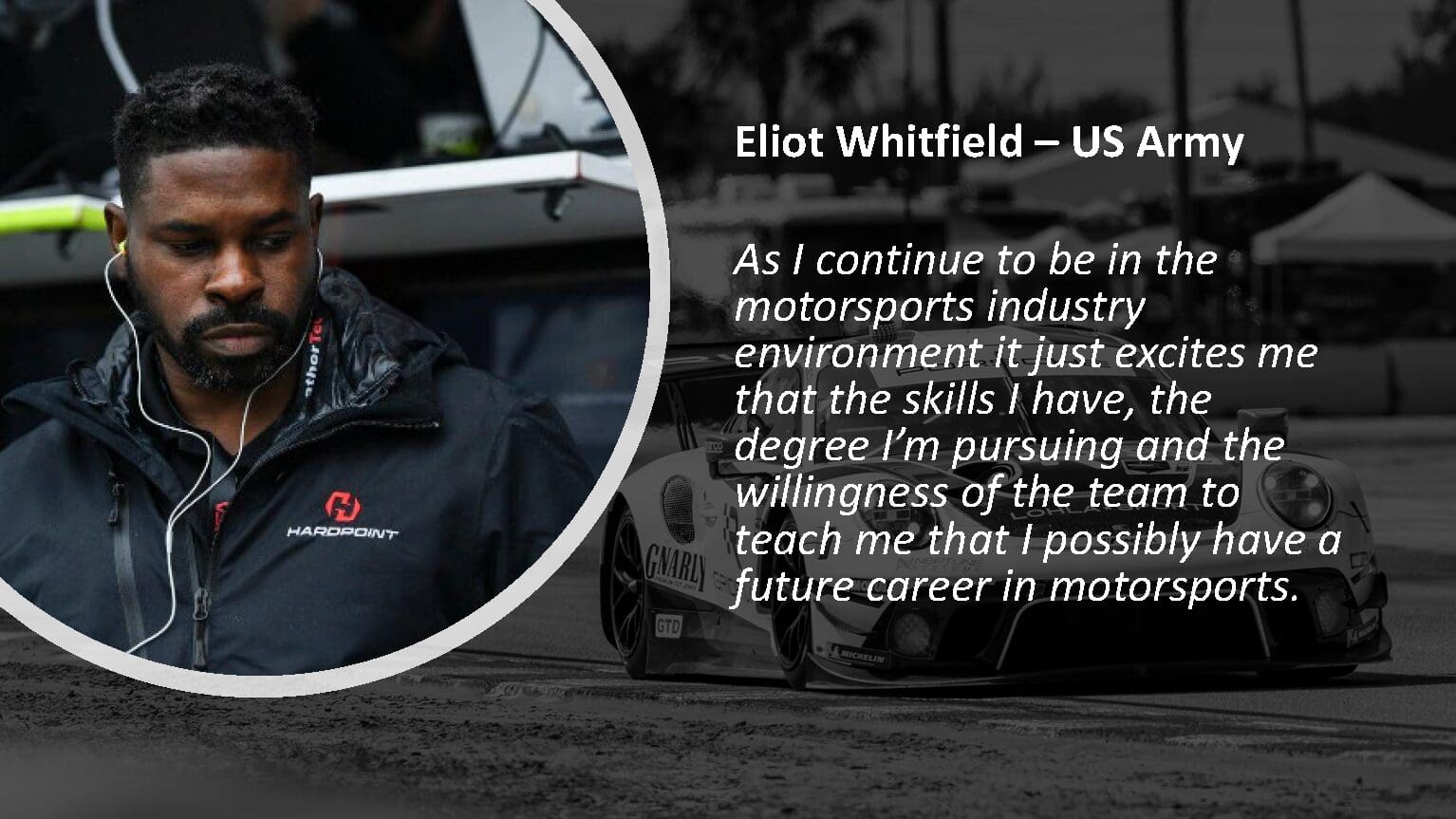 This past weekend I completed working my second race with Hardpoint which was the Rolex 24. This time I worked as a driver assist for driver changes. I had no experience doing but once I arrived in Daytona the drivers Rob, Katherine, Stefan, Nick and I worked out how it would work and practiced whenever we got an opportunity.  I actually got to go up to the race shop for a couple of days the second week of January to train for driver assist but being that the car was still being prepared for the Roar, I didn't get any.
While being at the shop I got to see the process of a car being prepared and shook down. The crew chief Ross asked what I did in the Army, and I told him I did commo, working with radios and computers. He laughed you were hiding those skills huh. I replied no laughing no one never asked. I ended up asking their IT guy if he needed any help installing the new radio system in the timing stand. Lauren the Race Program Manager, once she found out my background she came over and talked to me and told her that I would like to get into data analysis in motorsports and that I'm currently pursuing a degree in information systems and analytics with a minor in data science. Then she told me about her background in motorsports that she was data engineer and that they possibly can help me with learning data engineering.
While in Daytona the weather wasn't the best, but the experience was unbelievable! Being part of the crew going over the wall during race was amazing! Even though it was my first-time doing driver assist the drivers told me I did an amazing job. I also let my background in comms kick in by looking at things the team need to have extras of as in parts, who to send equipment to for repair, or ordering a replacement if it can't be repaired. I developed an excel spreadsheet with type of radios, how many headsets, and who needs what radio and how many. As I continue to be in the motorsports industry environment it just excites me that the skills I have, the degree I'm pursuing and the willingness of the team to teach me that I possibly have a future career in motorsports.